Swami Vivekananda, one of the greatest spiritual thinkers and social reformers of India, was born in 1863 in Calcutta. The great philosopher's secular ideals have been framed in the Indian Constitution. Also remembered reverentially as India's youth icon, 4th July is the death anniversary of Swami Ji. Let us seize the opportunity to read some thought-provoking quotes by India's spiritual guru on his 120th death anniversary.
Life, philosophy and teachings of Swami Vivekananda-
Vivekananda means 'the bliss of gaining wisdom'. Swami Vivekananda, the favorite disciple of Ramakrishna, Indian mystic guru, had a keen interest on spirituality from a young age. He has introduced concepts of 'Yoga' and 'Vedanta' to the western world. As a token of gratitude to his spiritual prefect, Swami Vivekananda established the Ramkrishna Mission on the banks of river Ganga at Belur Math.
With his insightful oratory on patriotism and spirituality, Swami Vivekananda has always been an inspiration to the nation's youth. The most majestic event of his life was his remarkable speech in 1893 on universal brotherhood and religious tolerance delivered by him at the World's Parliament of Religions in the city of Chicago.
Swami Vivekananda left the mortal world at a young age of 39 on July 4, 1902. Today is the death anniversary of the great visionary and the perfect occasion to learn some of his wise quotes. Such was the wisdom and farsightedness of Swami Vivekananda that his words spoken a century ago is relevant even it today's fast-paced technologically advanced world: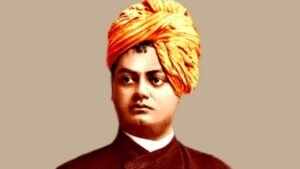 Inspirational Quotes on personal growth by Swami Vivekananda: 
"There is no other spiritual teacher than your own soul."
"Arise, awake and do not stop until the goal is achieved."
"Think not that you are poor; money is not power, but goodness, holiness."
"Anything that makes you weak – physically, intellectually and spiritually, reject it as poison."
"Fill the brain with high thoughts, highest ideals, place them day and night before you, and out of that will come great work."
Read more: