June 30 is the last date to link your PAN with Aadhaar. One who fail to link by today will have to pay a double fine of Rs. 1000 from July 1, 2022. Check the simple steps and complete the PAN-Aadhaar link now.
CBDT had already extended the time period to link your PAN with Aadhaar from March 31, 2022 to June 30, 2022. But you still have to pay Rs. 500 as late fine if you link the two cards today. Failure to link your PAN with Aadhaar will lead to a double penalty of Rs. 1000. As today is the last date to link both IDs, do it online to keep extra deductions at bay. The government notice is available on the Income Tax Department's website.
How to link your PAN with Aadhaar online?
Visit the official website of the IT department, namely incometax.gov.in.
Complete the registration at the portal with the help of your PAN number.
Once you login to your account, you will find the option for linking your Aadhaar and PAN on the homepage.
More information like your mobile number, name and other details will be automatically filled as per data given in your PAN card. Cross check them once to avoid any error.
Now click on the option that says "PAN-Aadhaar link'.
Pay the penalty with the help of your Debit Card or Credit Card and wait.
Your Aadhaar will be linked with your PAN.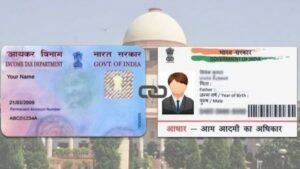 Other methods to link your PAN with Aadhaar:
If you are looking for an alternate way to link your PAN and Aadhaar, you can even do it with the help of SMS. Simply type UIDPAN < Aadhaar Number of 12 digits >< PAN Number of 10 digits > send the text to 56161 or 567678.
There is an offline way of linking PAN-Aadhaar. You have to visit any PAN service center in your city. There you will be asked to submit a form named 'Annexure-I', a copy each of the Aadhaar Card and the PAN Card. Please note that it is a paid service. 
How to verify PAN-Aadhar link status?
Visit incometax.gov.in/iec/foportal, the official website.
Click on the PAN-Aadhaar link option on the homepage.
Submit Aadhaar and PAN details accurately and click on 'Validate.'
The PAN-Aadhaar link status will be visible on the screen.
Read more: