July 7 is the birthday of Mahandra Singh Dhoni, India's most popular cricketer. Thousands of fans from all parts of India shower the sportsman with heartfelt wishes and some have their unique ways of wishing. One of MS Dhoni fans, an inhabitant of Arunachal Pradesh, has erected a cut-out of India's ex-captain which is 41-foot high.
Mahendra Singh Dhoni, popularly addressed as 'Captain Cool', and adored for his famous 'helicopter shot' is the most popular cricketer in India. Even if he has embraced retirement from international cricket, his popularity is unshakable. The same love and admiration that fans had for MS Dhoni when he led the Indian Cricket team to several remarkable victories is still there in the hearts of his fans. So, as the legend turns 41 on 7th July, 2022, a fan made sure that he is 41 feet tall by creating a spectacular 41-foot cutout to pay tribute to Dhoni.
As the 'Helicopter Shot' is Dhoni's signature hit, in the 41-feet cutout, MS Dhoni has the exact same posture. The cutout of Dhoni has taken the internet by storm and fans from all corners of the world shower him with 'happy birthday wishes'. The contribution of this dedicated player to the Indian Cricket Team is commendable and legendary. Under his amazing leadership, India emerged as the No. 1 team in Test Cricket and won three big ICC tournaments.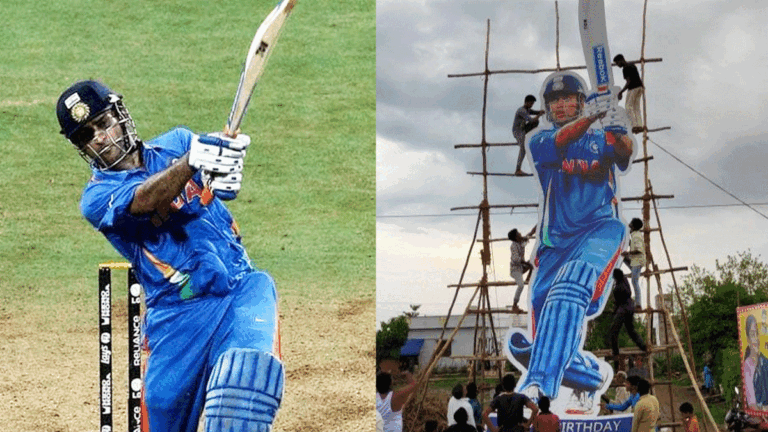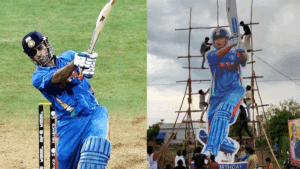 MS Dhoni is presently celebrating his birthday in England with Sakshi, the love of his life. Few days ago the couple celebrated their marriage anniversary on July 4, 2022. Irrespective of where Dhoni is on his special day, his fans in India like every year are rejoicing with equal enthusiasm.
Read more: