28th July is observed as World Nature Conservation Day around the globe. This international day creates awareness about the necessity of conserving nature and natural resources. On International Nature Conservation Day 2022, let us take a moment to know the main goals, significance of this special day and what we can do as responsible individuals to conserve nature.
The ecosystem gives us water, air, food and many essential resources. But, both plants and animals are threatened by several human activities. If we want to maintain the ecological balance of our planet and protect nature, it is essential to have a basic understanding of how our actions and lifestyle choices impact the environment. So, World Nature Conservation Day is a yearly event meant to educate people on the essentiality of nature conservation and the steps we can take in that direction.
Why do we celebrate 28th July as World Nature Conservation Day?
Every year, 28th July is celebrated as Global Nature Day all over the world. This day gives us a chance to understand the world's biodiversity so that we can all take simple steps to reduce waste and conserve nature. So, World Nature Conservation Day celebrates the importance and beauty of nature.
Primary Goals of World Nature Conservation Day:
World Nature Conservation Day promotes environmental justice, and therefore contributes to world peace. Environmental justice means that everyone (humans, plans, and animals) has the right to thrive in a healthy environment.
As World Nature Conservation Day raises public awareness on the importance of conserving nature, it helps in protecting the biodiversity of planet Earth.
World Nature Conservation Day also promotes sustainable development by taking active steps to lessen pollution in the environment.
World Nature Conservation Day: Significance
Celebrating this day is important as it raises awareness on the necessity to conserve nature and the wildlife.
The day promotes major conservation efforts that help the planet heal.
It gives humans the motivation to come up with new, environment-friendly strategies and work together to protect nature.
How can you celebrate Global Nature Day?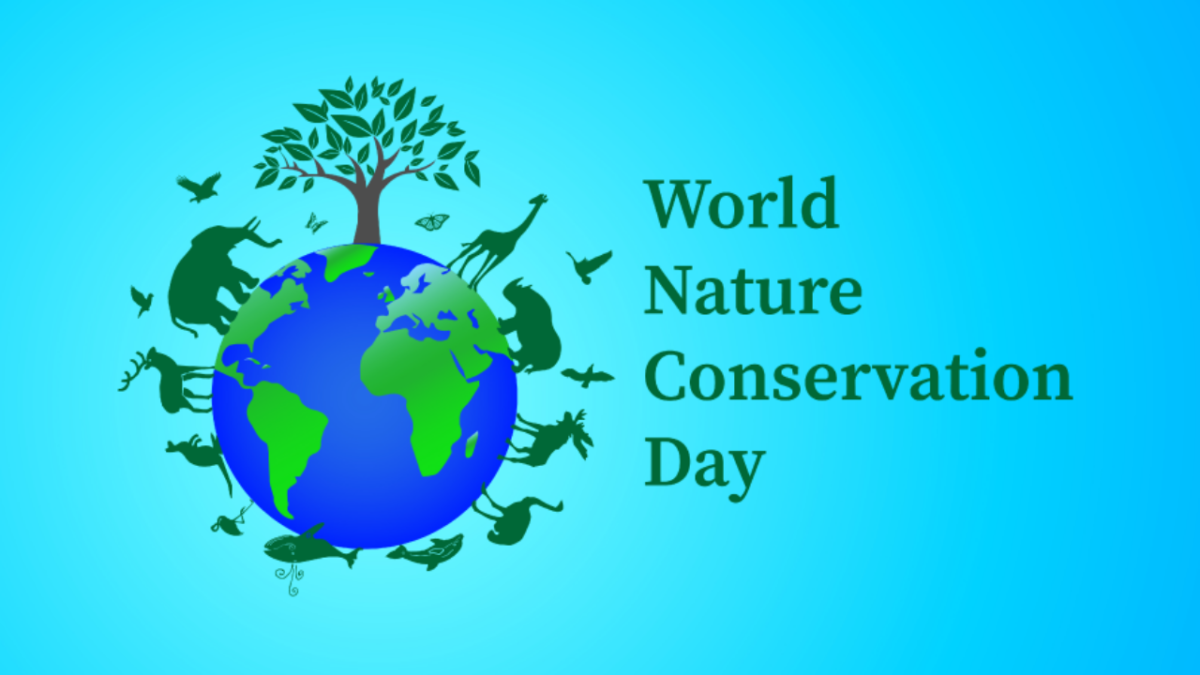 As inhabitants of this planet, it is our responsibility to make the world livable for all. Each one of us has a key role to play in maintaining our planet and being kind to nature. Even if you can't take huge steps, say 'yes' to simple lifestyle changes like taking the public transport, not littering, not wasting energy, and refraining from using plastic. As an aware human and a learned individual, you can also enlighten the people around you to live an eco-friendly life. Such small actions have the potential of making a big difference in protecting the environment.
You can also make donations to any conservation organization committed to safeguarding the laws of nature. Or you can become a citizen scientist, actively participate in field surveys and contribute your knowledge of the environment to protect nature.
Conclusion:
On World Nature Conservation Day 2022, let us take a vow to be more sensitive towards plants and animals because they make up this planet. In order to gift a nurturing environment, value food, clean water and fresh air to our future generations, we must act now in favor of conservation of nature.
Read More on Money Niyantran: