PM of India, Narendra Modi is in Schloss Elmau Germany to attend the 48th G7 summit 2022 which started on June 26 this year and continued till June 28. At a special session of the G7 Summit 2022 on Monday, Modi made some significant remarks on women-led developments in India and India's role in environmental protection.
Narendra Modi addressed the G7 Summit 2022 and shared his opinions on gender equality and food security. He emphasized that the approach of the nation has shifted from development of women to developments caused by women. He said, "Indian women are fully involved in real decision-making today." To validate his statement he added that of all elected leaders serving India on behalf of the state governments or the central government, at least half of the team comprises of women, making the total number in millions.
The PM also mentioned that the agricultural workforce and skills of Indian farmers have given a new life to the production of traditional products like olive and cheese. He asked the G7 to build a structured system promoting the worldwide use of India's agricultural skills in the G7 member countries. He is optimistic that proper utilization of India's farming strategies will ensure food security in all the G7 countries.
Monday's session of the G7 Summit 2022 also had as its theme, "Investing in a better future: Climate, Energy, Health." Narendra Modi reminded the world that the poor should have equal rights to energy access, just like the rich. With sky-high energy costs resulting from geopolitical tensions, Modi urges the developed countries to invest in India's clean energy sector which is emerging as a major domain.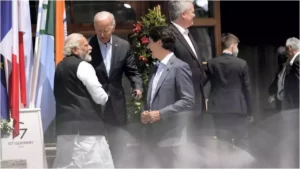 On the G7 Summit 2022, the Indian Prime Minister asserted that India's commitment to the cause of environmental protection remains unaffected in spite of the challenges the nation has suffered in the path of its long history of growth and civilization. Ancient India was immensely prosperous but centuries of exploitation and slavery has caused irreparable losses to the country. Now again, independent India is among the fastest rising economies of the world. PM draws everyone's attention to the fact that despite being the home to 17% of the world's total population, India is accountable for 5% of carbon emission globally. The reason is that Indians believe in harmonious coexistence with animals and nature.
Besides the G7 Summit 2022, Prime Minister Narendra Modi also had bilateral meetings with leaders of other nations like France, Canada and Indonesia. As per his tweet, his meeting with Ursula von der Leyen was extremely productive and they discussed crucial issues like combating climate change, enhancing digital cooperation, and deepening investment linkages.
Read more…